John Wetton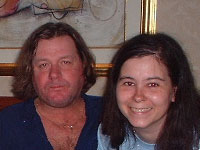 John Wetton with Sharan at John Wetton Fan Convention, July 2002
Musical Genre: Progressive Rock
Born: 6/12/1949
Birth Name: John Kenneth Wetton
John Wetton was born in Derby, England and brought up in Bournesmouth, England. His older brother was a church organist, and John accompanied him on bass many times. He played in several bands while in school and then moved to London, where he played in a long series of bands including Mogul Thrash, Family, King Crimson, Roxy Music, Uriah Heep, and U.K. In 1980 he released his solo album,
Caught in the Crossfire
.
In 1981 he was introduced to Steve Howe by John Kalodner, and Asia was born. Their first album was a huge hit, and although for a short time after the second album John Wetton left the band (Greg Lake replaced him in the 'Asia in Asia' show), he soon returned for the 3rd album,
Astra
.
The bend went on haitus for a while after that, and he released his solo best of
King's Road
, as well as the album
Wetton/Manzanera
with his friend Phil Manzanera. In 1990 Asia returned to release
Then and Now
, along with touring (which produced the 'Live in Moscow' CD/VHS release).
Shortly after that John decided to focus on his solo career. He started with the cd
Battle Lines
(
Voice Mail
in Japan), and followed with a series of albums that included
Arkangel
,
Sinister
(
Welcome to Heaven
in Japan),
Rock of Faith
, the soundtrack for the movie
Chasing the Deer
, and numerous live albums. In 2002 a Fan Convention was held for him in Pennsylvania.
In 2006 a reunion of all 4 original members of Asia was announced, with a tour of the U.S. that fall.