Search for your artists here. We'll find them for you!

| | | |
| --- | --- | --- |
| | | |
| | Recently Updated | |
| | | |
Nightwish Video Premiere - Saturday, August 11, 2007 at 10:48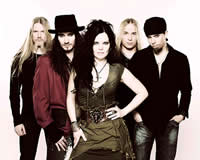 According to their label, Nuclear Blast Europe, Nightwish will be premiering the first video from their upcoming album Dark Passion Play on their site, www.nuclearblast.de on August 13th at 8:00 AM CET. The video was also shown today on MTV Finland at 9:05 AM. The song, "Amaranth" will be released as a single on August 24th or 31st (depending on version), and the full album will be available at the end of September.

This is their first album with new singer Anette Olzon, so it's a good chance to hear the band with her and see how well she fits the band. There was a lot of controversy when long-time singer Tarja Turunen left the band, so I'm sure a lot of people will be checking in to hear who they replaced her with!

Nightwish will be touring the U.S. starting in September, and I'm hoping to catch them when they play the House of Blues Sunset Strip on November 4th. For the full listing of tour dates and more news, check their official website.

Search the world for your music!

No Dates Found