Search for your artists here. We'll find them for you!

| | | |
| --- | --- | --- |
| | | |
| | Recently Updated | |
| | | |
Rick Springfield to Debut New Track - Saturday, August 11, 2007 at 11:42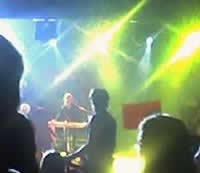 According to MelodicRock.com, Rick Springfield will be debuting the track "Who Killed Rock 'n Roll?" from his upcoming album on General Hospital. The cd itself will be released sometime in 2008. His character on the show, Noah Drake, has recently discovered that he somehow looks identical to popular singer (on the show) Eli Love, and has been working with Finola Hughes' character, Anna Devane, to fill in for him at a benefit concert while the real rock star recovers from brain surgery.

This should be very interesting! I just saw Rick Springfield with Eddie Money for the first time this past Wednesday at the North Fork Theater (formerly known as the Westbury Music Fair) on Long Island, NY (I've been in town this past week for my cousin's wedding and will be heading back to L.A. tonight), and I have to say he puts on one hell of a show! I hope to get a full review of the show posted here soon. So I know I'm looking forward to seeing "Eli Love" perform this new Rick Springfield track!

Search the world for your music!

No Dates Found