Search for your artists here. We'll find them for you!

| | | |
| --- | --- | --- |
| | | |
| | Recently Updated | |
| | | |
Arch Enemy Release New Song - Thursday, August 2, 2007 at 03:31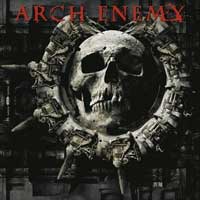 Death Metal phenoms Arch Enemy have released a new song! The song, "Blood On Your Hands" can be found here .

"Blood On Your Hands" is a track from Arch Enemy's new album Rise of the Tyrant which is due out on September 24th. Not only can you listen to the new song, you can also stare at the awesome cover art from the upcoming album here.

Guitarist Michael Amott states: "I know there is a lot of excitement out there amongst the fans to hear this new album so we thought it would be cool to give you all a sneak preview. "Blood on Your Hands" is the opening track on Rise of the Tyrant and kicks the album off with a huge bang! It's a full on, no holds barred slab of classic Arch Enemy where the whole band is going for it 110%! The song was a blast to write and record and now we are looking forward to playing it live! To me it captures all aspects of Arch Enemy perfectly with just about as much guitar as it's possible to cram into four and a half minutes, enjoy!"

The Arch Enemy tour takes to the United States on October 9th in Las Vegas, Nevada. From there, tour dates are scheduled for the band to blaze a path all over the country promoting Rise Of The Tyrant.

Search the world for your music!

No Dates Found