Search for your artists here. We'll find them for you!

| | | |
| --- | --- | --- |
| | | |
| | Recently Updated | |
| | | |
Papa Roach on Tour - Saturday, August 4, 2007 at 22:06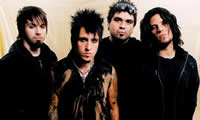 The Pulse of Radio reports: Papa Roach is currently on tour with new rock sensation Hinder and Buckcherry as part of the Bad Boys of Rock tour. Papa Roach lead singer Jacoby Shaddix told The Pulse of Radio that he is having a really great time on this tour.

"It's just fun to be part of a cool tour, and a tour that's packing houses and really there's just like a sense of camaraderie amongst the bands, which is, you know, something that's really cool," he said. "You know, I haven't felt like this, you know, since we were on Warped Tour 2000, you know, or Ozzfest 2002, you know, where it's just like, the bands are hanging out, we actually on days off go do stuff...you know, overall, in general, just having a blast," reports Shaddix.

As an added bonus, Papa Roach drummer Dave Buckner is out of rehab and is now back touring with the band again.

The tour is scheduled for another two months. For dates and locations, visit Papa Roach's MySpace page.

Search the world for your music!

No Dates Found