Search for your artists here. We'll find them for you!

| | | |
| --- | --- | --- |
| | | |
| | Recently Updated | |
| | | |
New Aerosmith Interview Available - Monday, August 6, 2007 at 19:38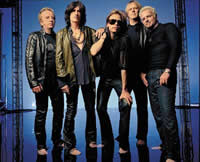 A new three part audio interview with Joey Kramer from Aersosmith is available! Boston radio station 100.7 WZLX conducted the interview which can be found at the following links:

(Part 1)

(Part 2)

(Part 3)

Kramer talk to the hosts about his recent tour, where their music is headed, and much more. The interview is a must for any Aerosmith fan.

Kramer is expected to attend tomorrow's grand opening of the relocated Hard Rock Café at Faneuil Hall. Other rock stars are expected to attend and shake the place up, including Black Label Society front-man Zakk Wylde, Anthrax guitarist Scott Ian and Stand lead singer Aaron Lewis.

Search the world for your music!

No Dates Found